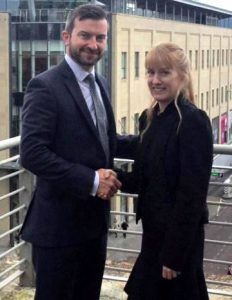 Ms Tanya Jennings recently joined forces with McIvor Farrell Solicitors in April 2016 after working for almost five years in the Lurgan Portadown area. She now heads up the Matrimonial Practice at McIvor Farrell Solicitors and offers a wide range of legal services and advice on matters including Divorce, Separation, Financial Settlements, Domestic Violence and Children's Law issues. She also continues to offer services and advice to people and clients in the Lurgan/Portadown area and to attend at their local courts in the Craigavon and Newry area.
Tanya graduated from Queen's University Belfast in 1994 and was admitted to the Roll of Solicitors in 1996. Tanya has dedicated her career to the practice of Children's and Family Law and deals sensitively and passionately with the client issues involved. She has extensive experience in all family matters including Private Law matters such as Divorce, Separation, Financial Settlement, Child Custody and Contact and Relocation and Abduction cases. Ms Jennings has also been involved with numerous Public Law cases and non-accidental injury cases when Social Services have become involved with the family.
Tanya has an excellent track record of successfully reuniting children with their parents and providing top quality advice and ensuring reunification within the family home. Tanya is a member of the Law Society of Northern Ireland Children's Panel and also on the Children's Panel for the Northern Ireland Guardian ad Litem Agency where she offers specialist advice to children through the Guardian ad Litem. Tanya also specialises in Domestic Violence cases and throughout her career has worked closely with Women's Aid and has been an advisory member of their Management Committee. She has successfully secured Non-Molestation Orders and Occupation Orders to protect victims of domestic violence and to ensure criminal prosecution of the perpetrator. Tanya has represented a vast number of clients throughout her 20 year career in Divorces and Financial Settlements and secured an optimum settlement in favour of her clients.
Company Director Ciaran Maguire said:
"We're delighted to have brought Tanya to McIvor Farrell. She has enormous experience and a proven track record in her field. Our offices are based in Belfast but we offer legal services throughout the jurisdiction and, being from Lurgan myself, we're especially keen to serve clients in the Lurgan and Portadown area."