Victim's Campaigner Raymond McCord is mounting legal challenges in Belfast and Dublin on the basis that current criteria for calling a referendum on a 'border poll' is vague and UK Secretary of State has "unfettered discretion".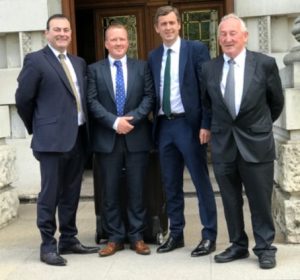 Mr McCord is mounting the challenge on the basis it could lead to political instability. Speaking about the case Ciaran O'Hare and Paul Farrell of McIvor Farrell, insisted certainty was needed on the issue. They were joined at the hearing by Irish Senator Mark Daly.
They said: "This is a far reaching and complex case which seeks clarification on the circumstances and conditions deemed relevant to the calling of a Border Poll. In the absence of Government policy we are exposed to political trade winds and uncertainty."
In the past week UK politicians appear to have a variety of opinions on the issue with the Secretary of State for Northern Ireland stating that conditions for a poll are not met but UK Prime Minister says they may. While the Leader of the Opposition claims conditions do exist for a border poll.
Paul Farrell highlighted that none "have defined what the conditions are".